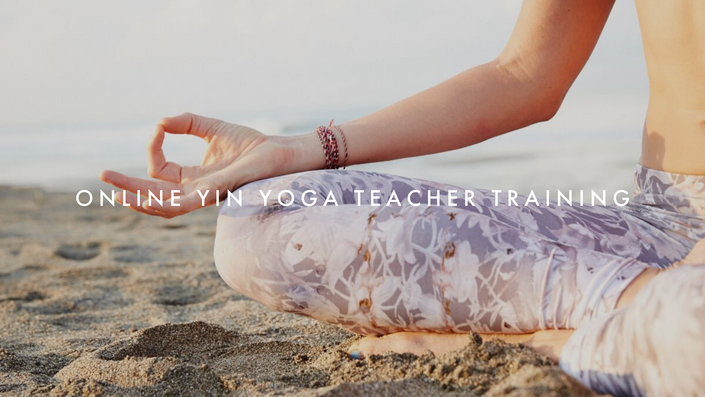 50hr Online Yin Yoga Teacher Training - August 2020
ONLINE YIN YOGA TEACHER TRAININGS
COURSE STARTS 14TH AUGUST 2020
50HR YOGA ALLIANCE REGISTERED
YIN YOGA SPECIALISTS RACHEL FEARNLEY & LUCY FOSTER-PERKINS HAVE TAKEN THEIR 50 HOUR YIN YOGA TEACHER TRAINING ONLINE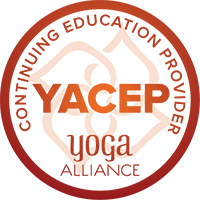 PRICE

$612.50 USD
** All above prices are including payment / transfer surcharge fees**


HOW IT WORKS ONLINE
THIS CONTINUES TO BE AN EDUCATIONAL AND TRANSFORMATIVE EXPERIENCE. YOU WILL DEEPEN YOUR PRACTICE AS YOU GAIN THE TOOLS TO EMBODY AND TEACH YIN YOGA .
This course will be taught with a mix of pre-recorded and live content. There are therefor two ways of taking part;
1) You can choose to join Rachel and Lucy live online from the 14th August and join the live lectures and Q&As as well as working through the pre-recorded content over the duration of the 2 weeks. This will require a commitment of 2-5 hours a day. The live calls will be at fixed times but you'll be able to work through the pre-recorded content in your own time. There will be a schedule for the two weeks so you'll know what pre-recorded classes, lectures and practice teaching to do each day.
2) If you'd like to take your time to work through the course then you have up to 3 month to complete all the content (if you'd like the certificate at the end). You can watch all the recordings of the live calls back in your own time so you won't miss out on any of the content. You will still have a specific order to work through the content so that the course is congruent and progressive.
Or you can do a mix of the two - you can join in with some of the live material over the first 2 weeks and watch the recordings back if you've missed a couple of live calls or lectures. This course can really work around your schedule!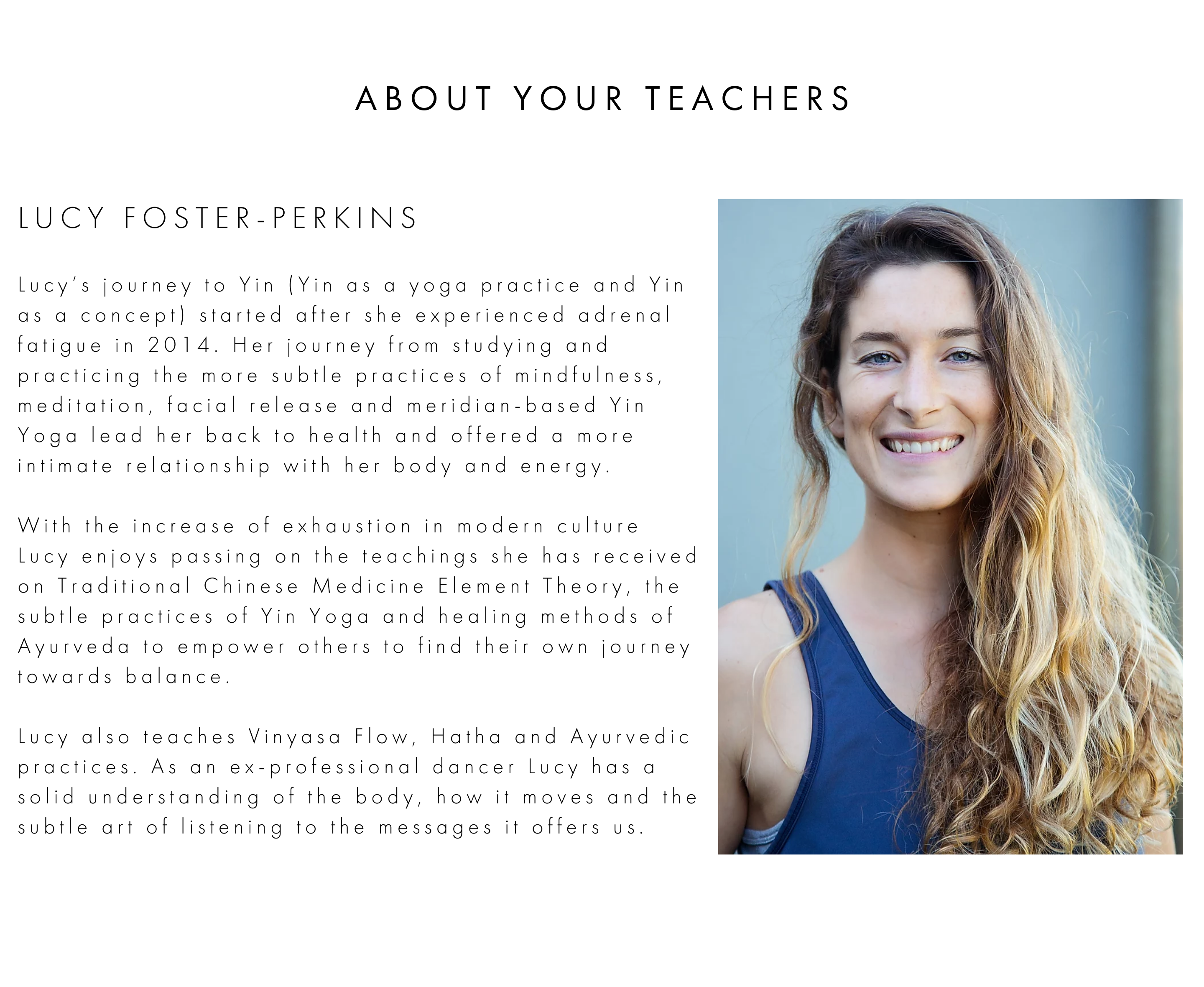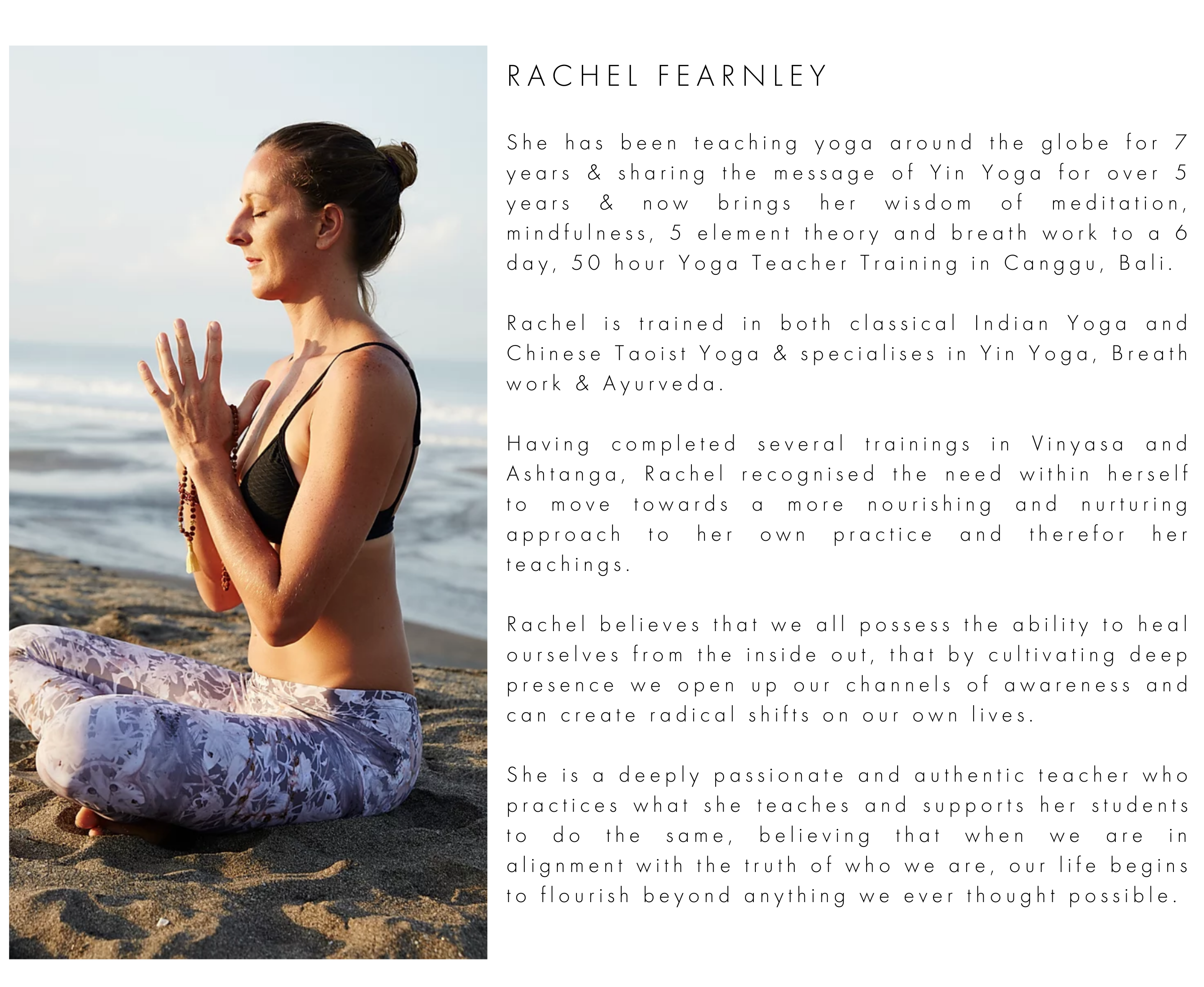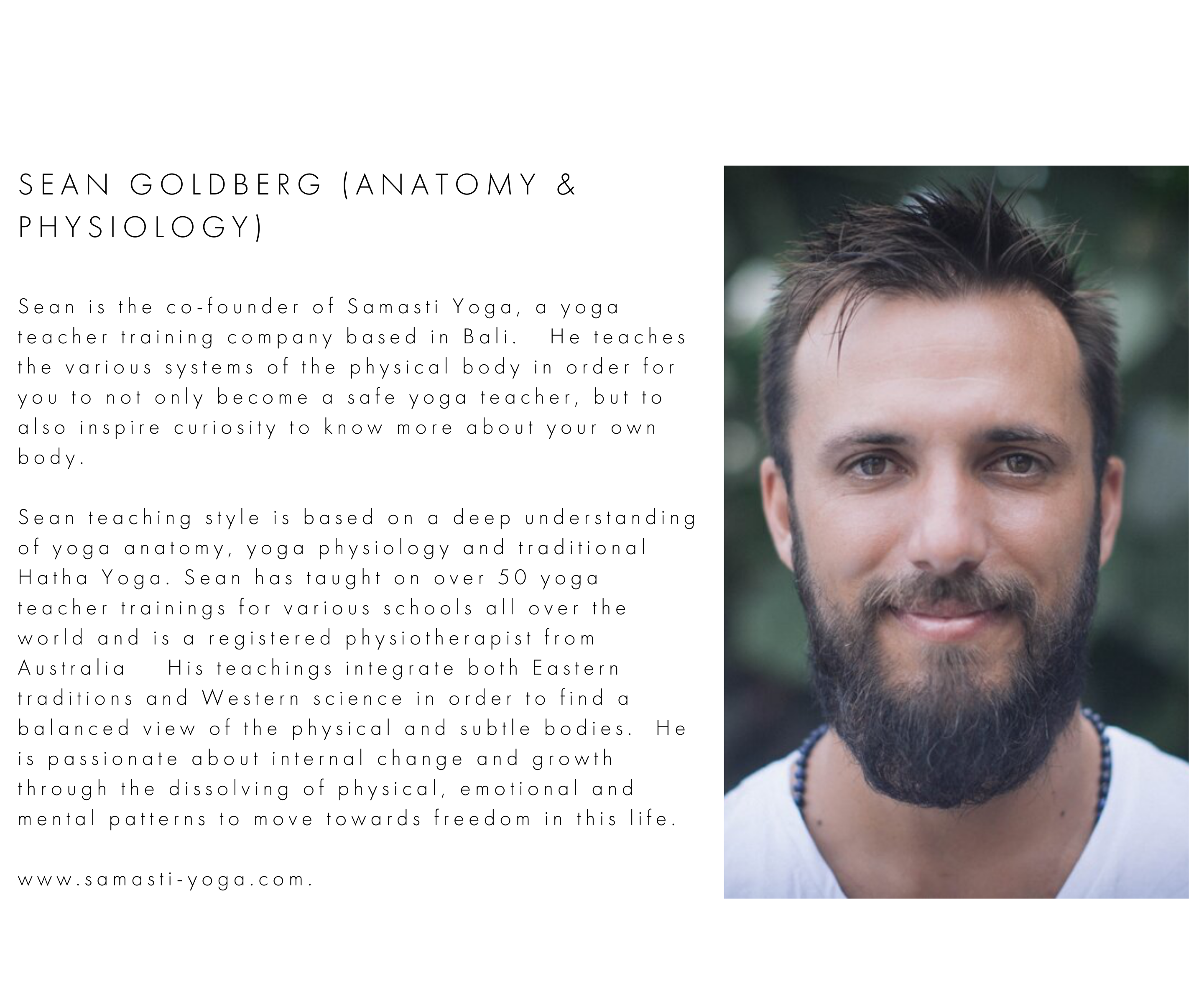 THE CONTENT
• Yin Practice – An introduction to the history and lineage of Yin yoga. The foundational principals of a simple practice for every body using the four stages of a yin pose..
• Inner Landscapes – 12 meridians & the 5 Element theory and how they relate to yin yoga postures - you will learn about the 12 meridian pathways and how yin yoga poses effect these energy lines.
• Anatomy and fascial trains – Focusing on both the physical & subtle energy bodies and how Yin Yoga uniquely targets these areas.
• Breath Work – Understanding how the breath is used to shift stagnant energy in our Yin poses & to enhance our meditation practice.
• Mind – We'll dive deeper into meditation and mindfulness practices and learn how they are integral to our Yin Yoga practice.
• Yin Teaching – The subtle art of creating & holding a safe space for Yin classes. The language of yin & teaching. Creating class structure.
• Embodying Yin – Taking the wisdom of Yin & TCM into our everyday lives, physically, energetically and mentally.
LEARNING ONLINE - LIVE LECTURES, PRE-RECORDED MATERIAL & SELF-STUDY
The course will be divided into live group calls, lectures and Q&As, and pre-recorded classes, practices, lectures and asana clinics, as well as your own teaching practice.
The live calls will be given once or twice a day for 2 weeks from the start of the course. Each live call or lecture will be recorded so you can watch the recording in your own time if you miss it. However, the live calls will give you an opportunity to ask questions as they come up during the lectures and gain wisdom from the QA calls with Rachel and Lucy.
We've created pre-recorded Yin (and also Yang) classes for you to follow at home. Each one will relate to the Element that you'll learn about that day so you'll begin to really embody Yin Yoga, mindfulness and meditation and relate to the 5 Element theory. These classes will also help you to relate to the lectures - both live and/or pre-recorded.
We've created clear video demonstrations of each pose where we break each pose down and show you how to teach them to a variety of bodies and facilities. Each day you're required to practice teaching the poses to a willing friend (in person or online) so you'll have plenty of practice teaching throughout the course.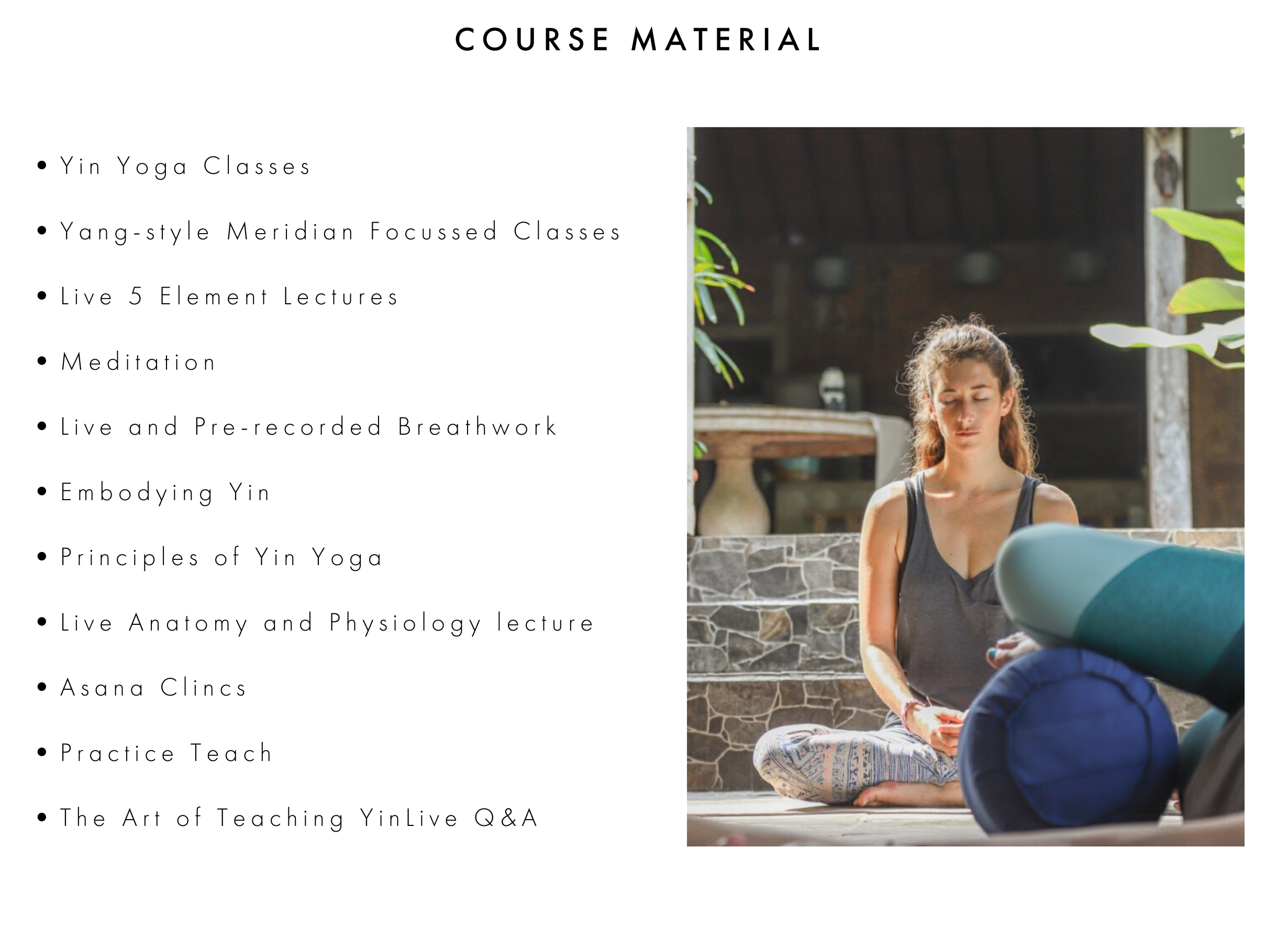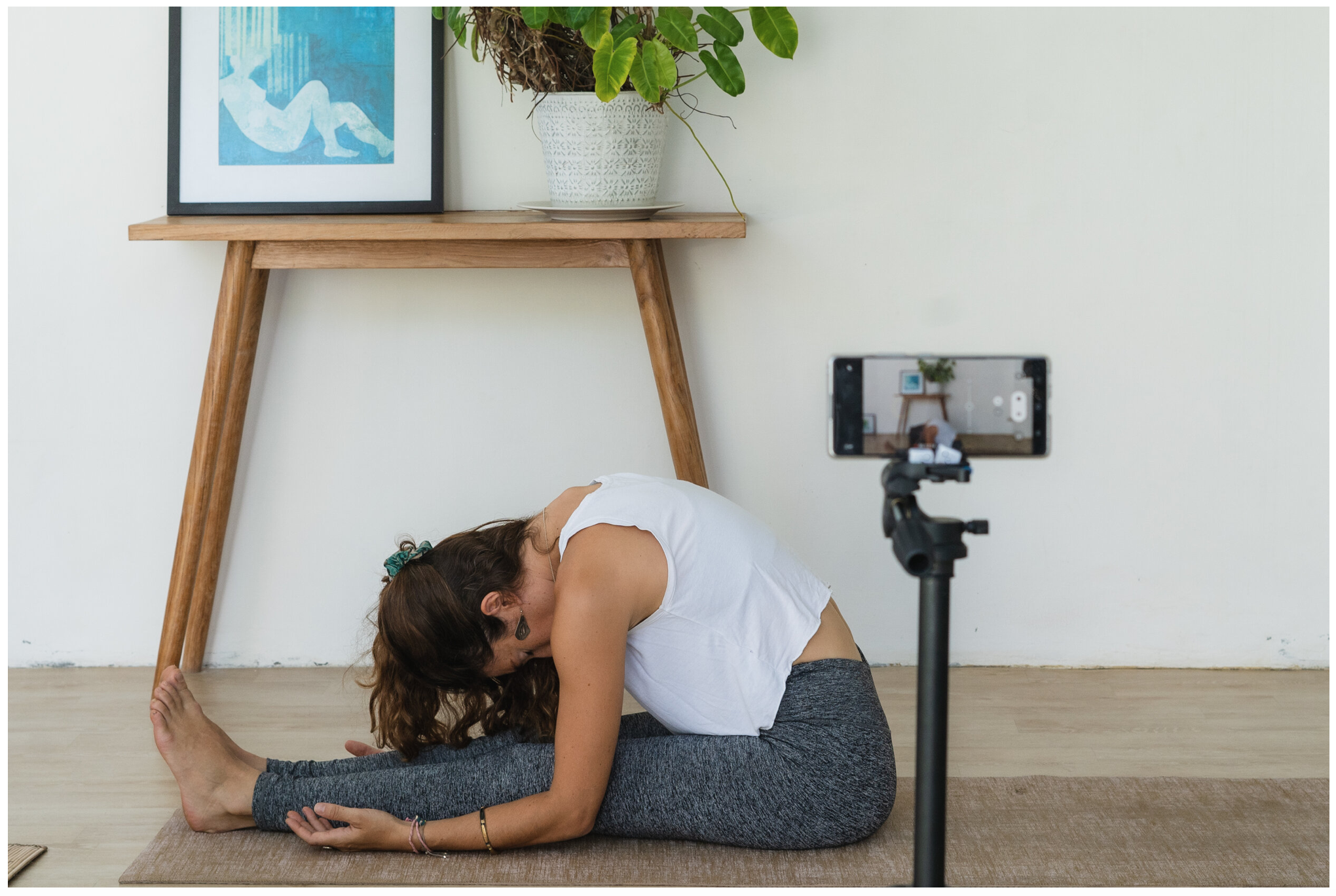 Curious about how our in-person translates to online training?
Julia Deipenbruck has taken an in-person training and online training with Rachel and Lucy. Our Online Yin Yoga TTC follows a similar format as our online 25 Hr Breath Coach Training to give you the same in depth and personal experience.
Check out Julia's experience below;
"I loved the course (Online Breath Coach Training) with Rachel and Lucy. It was already my second training with them and I can say that their teaching is great both face-to-face as well as online. They are knowledgeable, fun, calm and very supportive teachers.
The structure of the course is great, the teaching assignments help a lot to deepen your teaching practice."
- Julia Diepenbruck, Online Breath Coach Training 2020 and Yin Yoga (In Person) TTC 2020
ASSESSMENT AND CERTIFICATON
At the end of the course you'll be asked to complete a multiple choice quiz and submit a short video of you explaining a specific aspect of Yin Yoga and a second video of you teaching 1 pose. Rachel and Lucy, and their team, will assess each person individually and send you a digital version of your certificate.
We are setting you up for success! You will have a lot of teaching experience during the course and plenty of time to embody and understand the principles of Yin Yoga, meditation and mindfulness, and the meridian 5 Element system from Traditional Chinese Medicine. We want you to leave the course feeling confident and inspired, ready to spread Yin Yoga around the world!
PRICE
$612.50 USD
** All above prices are including payment / transfer surcharge fees**